When having a new garage door installed, the first decision that needs to be made is about the type of door you want to have installed in your home.
In days gone by, people might have been restricted, not only with regards to the technology that was available but also with the materials that were used to manufacture these doors; this is no longer the case.
People who are looking to have a new garage door installed in their homes have a wide variety of alternatives and options available to them; they simply need to get to know the options in order to make a sound decision about the one that suits their needs best. With each type of garage door, there are many colour and design options to choose from.
Automatic or Manual Doors
Firstly, homeowners have the option to pick between automatic and manual doors. In the past, there has been some concern over whether the automatic doors posed a safety risk within homes with property, pets or young children, but there are now safety features added to these doors to counteract the risks. There are many benefits to having automatic doors installed over manual alternatives, including affordability, accessibility and convenience.
Tilt Doors
Tilt garage doors are pretty standard; when they open, they do so via a tilting mechanism. There are two options for the type of fitting used, J or jamb fittings and T or track fittings. A Jamb type tilt door is the traditional fitting.
This door tilts outward and then lifts up to open half inside and half sitting outside the opening of the garage. A track-type tilt door functions a bit differently from the traditional tilt-up. Basically, this option gives people the opportunity to actually tilt the door upward and backwards to recess the door into the garage.

Tilt doors give you the most opening height of any of the door options and are the best solution when you don't have a lot of headroom in your garage.  Some people don't like the look of the standard tilt door as it has been around for a long time and can sometimes date the look of the house. It is very popular at the moment, when installing a new tilt door, to have the door sheeted in sectional/panel door sheeting, which gives the door a very modern look.
Sectional / Panel Doors
Sectional doors are usually divided into at least four panels stacked on top of each other that will ultimately become the structure of the entire garage. These divisions actually allow the garage to retract upwards so that it doesn't move outwards in order for the garage to open, as they hinged together and have rollers inserted into the hinges, guided by a track each side.
Garage doors of this nature tend to be more popular because of the many designs and looks available.

Roller Doors
Roller doors operate vertically up and down. When rolling up the door rolls around itself into a cylinder shape. These doors are usually the most cost effective door to use and generally come in the one steel ribbed profile design.
Sectional / Panel Door Motor Types
In terms of modes of operation, an electronic sectional / panel door functions via two different mechanisms; chain drives and belt drives. Most often, people will find that electronic systems are manufactured with a ceiling-mounted motor that is actually linked to a mechanism that will open and close the door. There is another system that can be used, however, and it operates via the torsion bar that has the springs attached to it above the door, so it doesn't require chains, screws or belts. This type of system similarly doesn't require overhead tracks or a box mounted to the ceiling.
Roller Door Motor
Roller doors are operated by a roll mounted mechanism. The motor is mounted directly onto the side of the roll. It can be mounted either on the left or right side. These motors slide over the central shaft and sit on the wall bracket and use forks to turn the drum wheels, which in turn move the door.
Choosing a Garage Door Motor
In many instances, homeowners that already own a garage door are simply looking to modify it so that it opens automatically instead of manually. There are a wide variety of models and brands of motors on the market. It is important to look around and research the best brands to ensure you get a good quality product.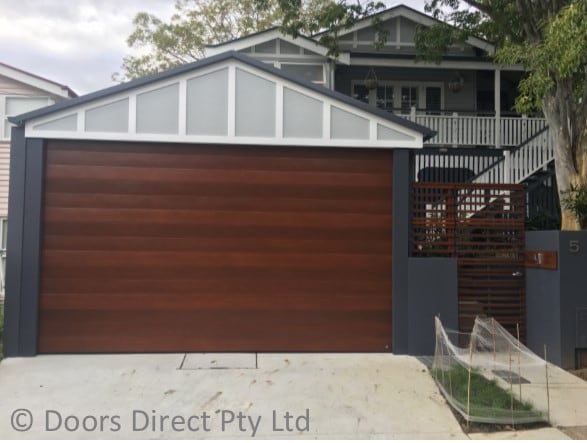 Doors Direct are your local garage door specialists in Brisbane.  We can repair, service and install a wide range of motors and garage doors to suit your needs.
Since its creation in 2008, the company has gone from strength to strength because of their high-quality products, competitive pricing and the very hands-on approach the owners take when dealing with their clients.