The Hamptons is the seaside escape that wealthy New York families frequent during their summer holidays. The overall style is elegant, but casual, marrying sophistication with coastal living. Due to their clean design ideal for indoor-outdoor living, Hampton style homes have grown in popularity for many Australian communities. To complement the overall effect of the home, Homeowners make sure that their fencing, structures, and garage are designed to match. What is a Hampton style garage door and should you install one on your home?
A Hampton style garage door accounts for approximately a third of your home's curbside appeal. They are typically crisp white in colour and feature the same elegance, symmetry, and design of the rest of your Australian Hampton styled home. 
What is a Hampton Style Home?
Reminiscent of the houses of the affluent seaside on New York's Long Island, a Hamptons style home has a sophisticated design that blends elegance and relaxation that is perfect for indoor-outdoor living. In recent years, this style has grown in popularity in Australia as more people embrace fresh and minimal design touched by luxury.
Especially popular in northern seaside communities in Queensland, Australians have been keeping up with the trend by building or redesigning their homes and garages in the Hampton style.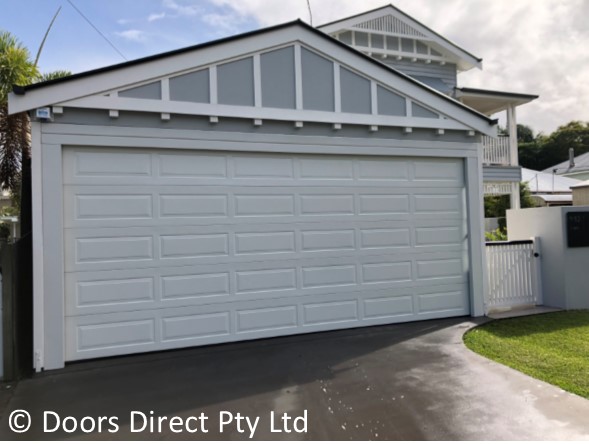 Common Interior Features of Hampton Style Home
When walking into a Hampton style home, you truly get the feel of indoor-outdoor living. Rooms are spacious and bright as the traditional palette of the home is crisp white with touches of pale blues, yellows, and greys. The typical large windows and French doors fill the rooms with natural light while inviting you to gaze on the landscape around you.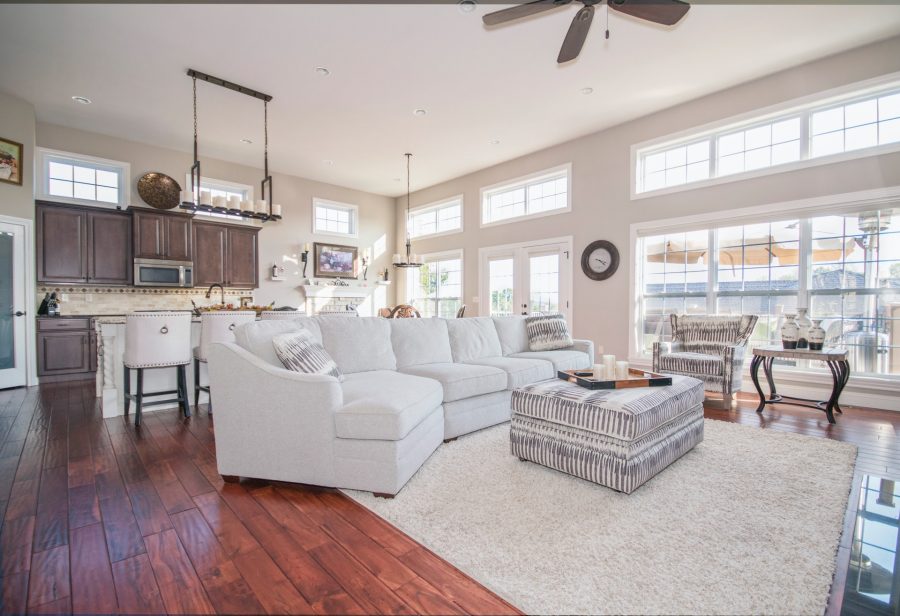 Other common interior features include:
High ceilings that may be vaulted for the illusion of more space, highlighted with ornate moulding.
Wall panelling with dado rails for aesthetic appeal
Hardwood flooring (generally light in colour for a coastal appearance) for structural integrity and design
Shaker or country-style cupboards and tiled splashbacks
Ornate plumbing and lighting features
High-end furnishings that are comfortable and simplistic in style
Typical Exterior Features of a Hampton style home
Hampton style homes have several recognisable features that set them apart. Most are white, but some have been painted pale grey, blue, or green. They typically have gabled roofs, large picture windows, and balconies that connect the interior to the outdoor world.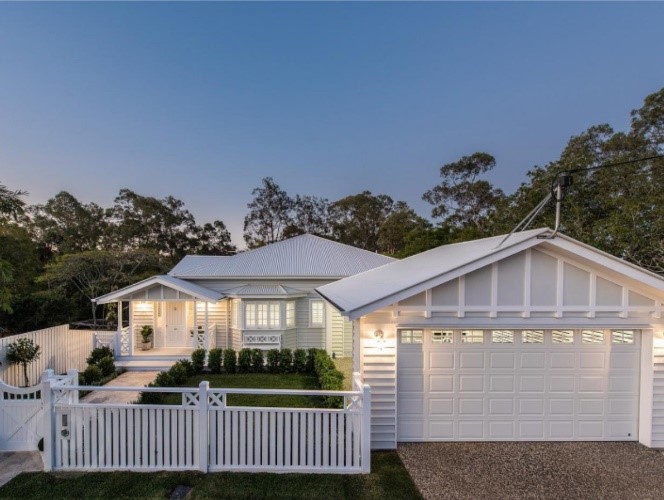 Here are some other exterior features you'll commonly see:
Shutters on the window, typically black or another dark shade
A glossy white (or black) front door
Lantern-style porch lights on either side of the front doors
Hampton style garage door designed to complement the home's facade
Shingled roof with lining boards on the eaves
Shaker-style or squared columns
External buildings and features should also be designed to match your home. Build sheds, gazebos, and fencing that are structurally appealing to add to the design of your home. To keep these features harmonious with the rest of the home, consider the following:
Wooden structures painted white (the same as your home or of its framework)
Simple, yet elegant, detailing that help it to stand out
Lantern-style lighting on fence posts
Grow shrubs and flowers alongside the structures to enhance the outdoor beauty
Add a Custom Garage Door for your Hampton Style Home
As ⅔ of the population drive to work on a daily basis, many Australians use their garage doors more than they use their front doors.  Garage doors typically account for 30% or more of your home's facade. A mismatched door can hurt your curb appeal and take away from the overall tone of your home. These facts prove that your garage door is an important feature when renovating or building your Hampton style home.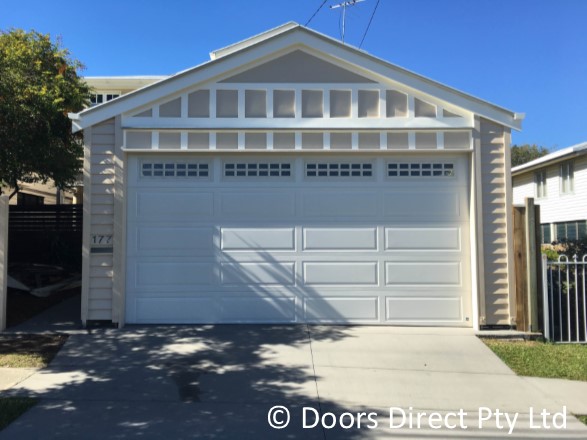 Hampton style garage doors are one of the American-inspired designs that Doors Direct has to offer. These doors are designed to complement the craftsmanship of your house to ensure the continuity of the structure. Doors Direct offers an array of Hampton style garage doors to add that finishing touch to your home.
Typical Hampton Style garage door features include:
Crisp white, glossy finish
Symmetry in its panelling design
Picturesque windows in the top panel correlating to the indoor-outdoor feel of the home
Lantern-style lights on either side of the door for a finished effect
Want to get creative and bring your own idea to life? With Doors Direct custom made designs the homeowner can pick the ideal door to match their style and taste. This is a prime opportunity to choose a design that suits the exterior of a home. Contact us today to find out more.