Updated 21/02/2020
Does your garage door need replacing, or have you recently added a garage that needs that perfect finishing touch? If you're a homeowner, getting your garage door right is important; especially since it is something that keeps valuables safe and gives a great first impression.
Garage door installation isn't just about picking out whichever you think looks the best, there are other details to also take into consideration. The Doors Direct Garage Door Buying Guide will help you come to the right decision.
Does a New Garage Door Increase Home Value?
According to the 2017 edition of Remodeling Magazine, installing a new garage door is one of the best ways to increase the value of your home. In fact, many home-owners can recuperate approximately 3/4 of the overall project cost when they sell their house.
Direct Doors can help you find an appealing model from our selection of garage doors. We have an assortment of popular American Style doors including Hampton style doors and Barn / Carriage doors that are an appealing addition to many types of homes.
The Types of Garage Doors
There are a few factors to consider before finding the perfect door for your home or commercial building. To help you find the right type of garage door, consider the building and space you have to work with, including the ceiling height.
Roller Doors
This is a cost-effective garage door type that is compact, convenient and looks great as a traditional choice for most homes without the huge price tag. For those with a narrow garage opening, roller doors are often the best choice. For extra convenience, consider adding a motor, or alternatively, you can leave roller doors as manual-operated with a lock and key feature.
Roller doors need the most amount of headspace as the door will roll up to the top of the garage. If this space is limited, consider a sectional or tilt door instead. You can see examples of roller doors we have installed in our online gallery here.
Tilt Doors
Tilt garage doors are made from one piece of material that operates on a spring hinge to open up and over. The benefit of having a one-piece garage door is that you can choose from a wide range of materials for its construction. The tilt garage door takes up the least amount of headspace, so if you have a tight overhead space, this is an ideal choice. However, you will need sufficient space in your driveway for room to open and close the door. Tilt doors can also be made automatic with a motor from Doors Direct to make it easier to open and close. You can see examples of tilt doors we have installed in our online gallery: Tilt Doors – K Panel, Tilt Doors – With Battons, Tilt Doors – Sectional Sheeting.
Sectional/Panel Lift
Sectional/panel lift doors work by having several sections hinged together to look like one solid door and open on a curve through a track system overhead. The panels can be designed to match the look and feel of your home, giving a great first impression, and can be made out of a variety of materials and completed with a Colorbond or powder-coated finish. Sectional/panel lift doors are another great choice if you have limited headspace in the garage or a small driveway, and can also be motorised for extra convenience. You can see examples of our sectional/panel lift doors we have installed in our online gallery: General Sectional Doors, Aluminium Sectional Doors, Timber Look Sectional Doors.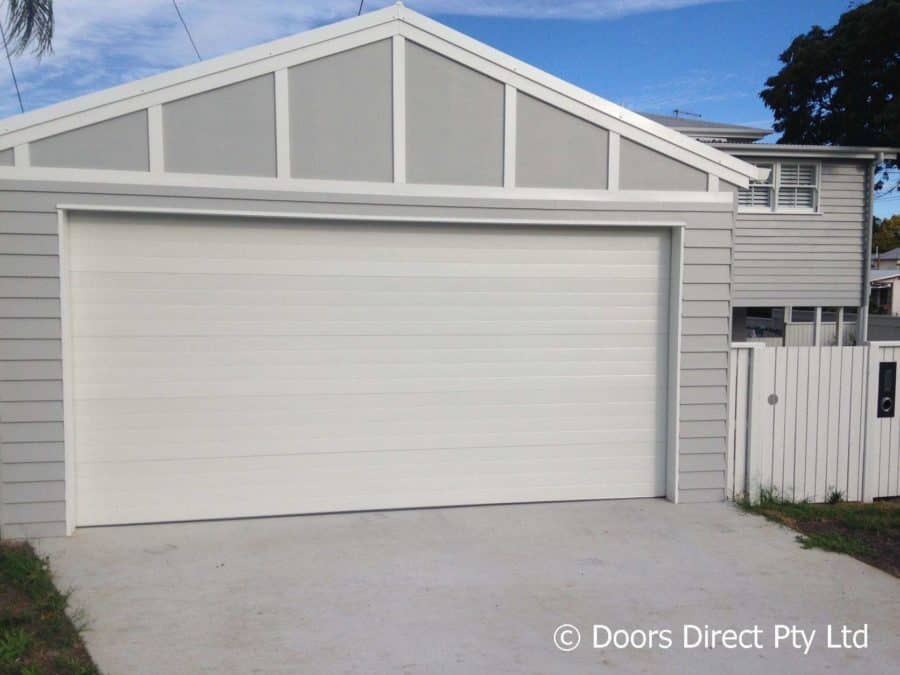 What is the Best Garage Door to Buy?
When buying a garage door, it is important to take the time to find the right door.  While there is no "best garage door," we will be happy to walk you through the process to get you the door that is best for your needs and the design of your home.  Whether you are interested in real wood doors or steel doors, you want to find a door that is durable, operates well, and is aesthetically pleasing.
Other Factors to Consider
In addition to the type of door you do choose, there are other factors homeowners should also keep in mind. Each aspect depends on the look and feel you are trying to achieve, and the budget you have to work with.
Design
Modern garage doors can come in a huge variety of designs. Add some character to your home exterior with colour and texture. Choose a design that blends in with the rest of your home or one that stands out and catches the eye with a great first impression.
With a panel lift door / sectional door, there are four standard designs that you can choose from – horizontal lines, squares, rectangles or a plain panel. There is also the option to have windows in the top panel. There is a wide range of designer doors available in different materials and designs, which you can see some examples of here.  We specialise in custom aluminium sectional and tilt doors
Alternatively, if you have your own design in mind, Doors Direct are always up for the challenge of designing a custom door to meet your needs.
Materials
Garage doors can be constructed out of many types of materials, and each one has its benefits. Colorbond Steel is the most common choice for garage doors and comes in a wide range of colours. Aluminium is also a popular choice for garage door construction as it is lightweight yet very durable and easy to maintain.
Timber is also commonly used on garage doors to match other timber features around the house. A great alternative to a real timber door is a timber-look door. There is a wide range of colours to choose from in the timber look range and you can see examples of some here.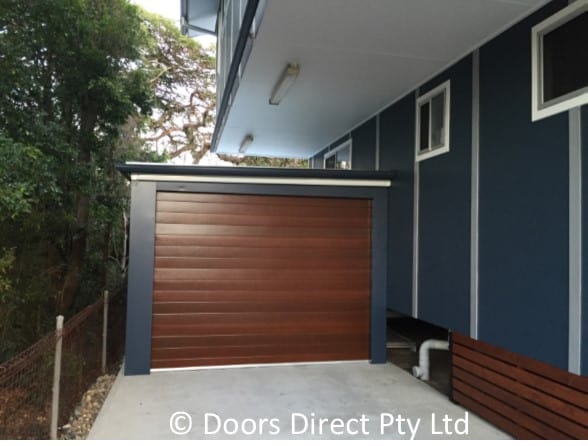 Colours and Finishes
The colour or finish you choose can be unique or made to complement the existing style of your home. As previously mentioned, Colorbond Steel offers a range of 22 colours to choose from in both the classic and contemporary ranges. You can see the colour options here.  If you can't find a colour you like in the Colorbond range, you can also choose from a wide range of powder-coated finishes. You can choose from the Dulux Duralloy standard colour range here.
Over the last few years, the "Matt" finish in products have become increasingly popular and you can now choose a garage door in a Matt finish in a limited range of Colorbond colours.
Motors and Openers
Now that you have a better idea of what kind of garage door to get, you can then decide if you want it to be manual or automatic with a motor. Doors Direct supply motors for the different types of garage doors. New motors are often quieter and have more energy-efficient motors which are suited for roller doors, sectional doors and for tilt doors.
Doors Direct also offer industrial motors to handle large, heavier industrial doors.
Smartphone access to your garage door is a new technology that is now available on most of our motor range. There is also a wide range of accessories and additional features that you can add on to your motor for additional functionalities. You can see some of the range here.
Safety Features
Garage doors should come with safety features as standard. For example, one safety feature your automatic door should have is an automatic reverse that takes place if there is anything obstructing it while coming down. All doors should also have an emergency release feature, and another good option to have is an automatic stop, which occurs when an infrared beam going across the width of the garage door option becomes disrupted.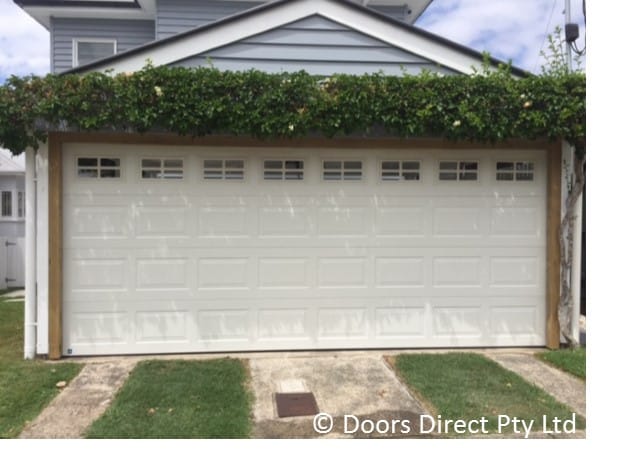 Can You Buy Replacement Panels for a Garage Door?
If you have accidentally backed into your garage door or have damaged it in another way, Doors Direct is happy to replace the broken panels or sectionals for you.  We will do our best to match the rest of your garage door so that you can enjoy your home's curb appeal once again.
The fastest way to get it replaced is to let us know the model and colour of the door and the size of the panel. You can find this information on the door's serial number. Once you have contacted us, we will order a replacement panel, then properly install it on your current door.
Do I Need an Insulated Garage Door?
In Australia, you do not need an insulated garage door as there isn't a need to keep the garage warm and dry. The only reason you may want an insulated garage door is if you live on a street that has a lot of heavy, loud street traffic. The insulation can cut down on the noise pollution. Doors Direct offers insulation as an extra feature when you are buying a garage door.
Like many others in the Brisbane area have already done, you can count on Doors Direct to provide the best door for your home. From design to installation, our team specialise in finding the perfect door for your home or business. Give us a call to discuss your garage door needs and let us find a solution for you.