As hot summer days approach, keeping your home cool can be costly. The best way to combat heat creeping indoors is by weatherproofing.
The garage door can be a big source of heat in your home if it is not suitably weatherproofed; otherwise, you could be running that air conditioning a lot more than you'd like! Additionally, in the cold months, you may also want to stop the cold air from getting in.
Weatherproofing your garage doors allows you can use your space more comfortably in different seasons, especially if it doubles up as your workspace. Here are a few ways you can make sure your garage doors are weatherproofed, so you can make the most out of your garage space.
Insulation
Insulation is the key to making sure that the outside air stays out. A gap between the garage door and foundation will lead to drafts coming in.
You can purchase an insulation kit to do this repair yourself, but, be sure pay attention to R-values; the higher the R-value, the greater insulation coverage you will get. The most common types of insulation are foam boards or batt insulation.
Weather Stripping
Running along the bottom of your garage door should be a rubber seal. This is the weather stripping and helps keep outside air from creeping in when the garage door is shut. Over time, this seal wears down and will need replacing.
You can test its need for replacing with the "Special Delivery" test. Take some post or stack of paper and see how easily it slides underneath. If it meets a bit of resistance, then you're fine. If it slides easily, then you may need to replace the weather stripping. Before replacing, make sure the old one is removed completely.
To replace weather stripping, the first thing you will need to do is measure along the bottom of your garage door. Rubber strips often just come in long pieces, so they may need to be cut-to-size. Next, you will need to nail the weather stripping down in place. Be sure to test closing the garage door, making sure it can shut with no problems or that the gap isn't too wide.
Sealing
Weatherproofing isn't just about the area around the garage door. Visually inspect the door and foundation for any gaps or cracks while the garage door is shut. Fill any imperfections with caulk or insulation.
Look For Wear and Tear
A garage that has seen better days may not be in the best condition for weatherproofing. Bubbles in the exterior, dents, and cracks will all have an effect on how well your garage door protects the garage from the elements. You can try sealing these, but ultimately it may be time for a garage door replacement. Sealing may be a waste of time and money if there is too much damage.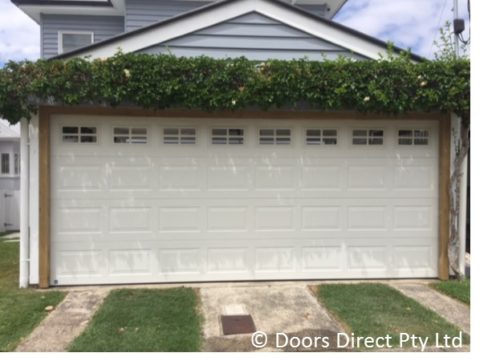 The process of weatherproofing is relatively simple and can be maintained with regular cleaning and visual inspections. Doors Direct can help with regular maintenance that will help extend the lifespan of your garage door.
If your door is suffering from wear and tear, then Doors Direct can help with a full door replacement. We'll get you back enjoying your garage again with a brand-new door that suits your home and style. Take a look at our Gallery to see the garage doors we have already installed in and around Brisbane. Have your own idea in mind? Then give our team a call and let us find the right solution for your garage door needs.