Preparing to install or replace new garage doors at your home or business? Building a new house and considering where to begin with the garage of your dreams? You may, of course, be wondering about standard garage door sizes; on the other hand, perhaps you're more curious about custom sizes and designs.
Matters of space and functionality can certainly burden you when planning for the installation or replacement of large components such as garage doors. After all, a user-friendly and smooth performing roller, panel, or tilt door is the end goal. You want a product that will meet your needs, but that has adequate room to do so.
Understanding specific areas and capacities, along with the necessary requirements to ensure safe and effective mobility, is essential to your overall satisfaction. Recognising the standard garage door sizes and deciding what will work for you are the first steps in creating your perfect garage that's ready to store, protect, and preserve what's important to you.
Types of Garage Doors
For starters, there are 3 main types of residential garage doors: roller doors, sectional/panel doors, and tilt doors. Each varies in cost and requires its own set of space and track specifications. Beyond these standard types, you're looking at custom sizes and designs, which may indeed be the best option for you.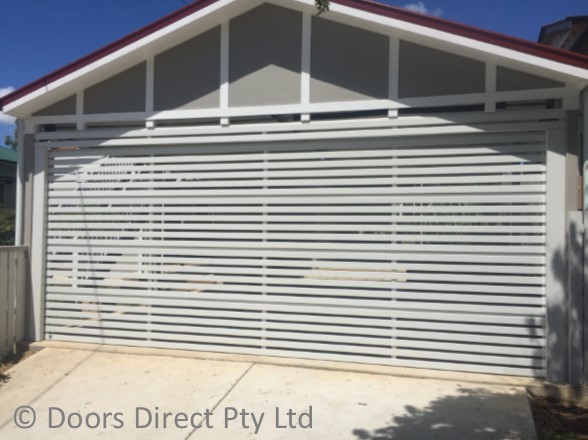 Standard Garage Door Sizes
Required clearances range from door to door. While tilt doors ask for little headroom, roller doors will demand the most headroom of all.
Standard garage door sizes vary. The process of choosing the best garage door is based greatly on your needs. You may find that, given a large vehicle(s) or a wish for extra storage, you must seek out customised doors.
Standard Garage Door Sizes are as follows:
Single Garage Door size:
2100mm high x 2400mm wide
Double Garage Door size:
2100mm high x 4800mm wide
Garage Door Specifics
A quick Internet search will yield many "standard" garage door sizes. Here's a guide to establishing what you'll need for your home, vacation property, recreational area, or business:
1. Domestic Roller Doors size:
These doors are produced to measure and fit openings up to 3m high x 5.5m wide.
2. Sectional/Panel Doors size:
These doors are produced to measure and fit openings up to 3m high x 6.4m wide.
3. Tilt Doors
Because this type of door bears a one-piece design, it can easily be made from a variety of materials. Actually, Doors Direct specialises in custom aluminium tilt doors. If you're tight on space, a custom tilt may be best.
4. Custom Garage Doors
Custom aluminium garage doors are a popular choice not only because of the lightweight, long-lasting material but also because of your ability to take or receive measurements and order an exact fit for your garage opening.
5. Commercial & Industrial Roller Doors
If you're in need of commercial roller doors, roller shutters, basement car park doors, and more, you'll likely need a custom size and design to guarantee a proper fit and satisfactory functionality.
What Are My Next Steps?
If you would like to get a jump-start on your garage door project, you might go out and employ your handy tape measure. Make note regarding the openings' heights and widths, and it may not be a bad idea to jot down the depth of your garage as well.
Finally, if you're interested in high-quality standard garage doors and perfect custom sizes and designs, contact Doors Direct today for a customised free quote *! Our friendly team members look forward to assisting you soon. The garage of your dreams is definitely possible with us.