The homes of the future that we imagined as kids are slowly starting to become a reality.
"Smart homes" are quickly gaining popularity in Australia as people turn to tech to help with everyday tasks. This could have an effect on your garage door as well. Learn more about these effects on the garage to decide if it is something for you to consider for your home.
What is a Smart Home?
A smart home is one that uses sophisticated technology and automated systems around the home. These can be controlled from a remote or even from your smartphone.
The systems could include multimedia, lighting, open curtains, windows, and doors, including garage doors. These systems can also be set on timers or controlled manually, and can often help save on energy costs!
What does this mean for your garage door?
Even if you have an automatic garage door controlled by a remote, a smart home upgrade means it goes even further. It can be included in a central control, so you won't have a remote for this and a remote for that, or have to worry about losing one.
Often you can even control everything from your phone! Some have different apps for each system, while some systems may be combined into one central app.
There are now more choices on the market than ever before for smart home garage door openers.
Gogogate2 is one of the most advanced and is compatible with most garage door motors. You can control and monitor up to three garage doors or gates and can share permissions with up to 10 guests. You even have the option to add a camera to your garage door, allowing you to watch when it is opening and closing at any time. A text or e-mail will also alert you as to when it is being opened!
The Asante Garage Door Opener has a camera implemented into it, with one camera able to get a view of two garage doors. There is also an infrared option, so even in limited lighting, you can keep an eye out on your garage.
It is easy to install, although some reviews have reported issues configuring the wi-fi. However, these issues can be easily fixed, and a wi-fi range extender can be purchased if needed.
Chamberlain MyQ is the economical choice for smart home garage door openers. It takes only half an hour to set up from start to finish. There are no wired connections, and it is easy for those who aren't tech savvy!
Want information about your garage? The data, including how many times the door has been opened or closed and how long it has been opened for are all tracked. You can also set up custom alerts, such as letting you know when the garage door has been opened for 60 minutes.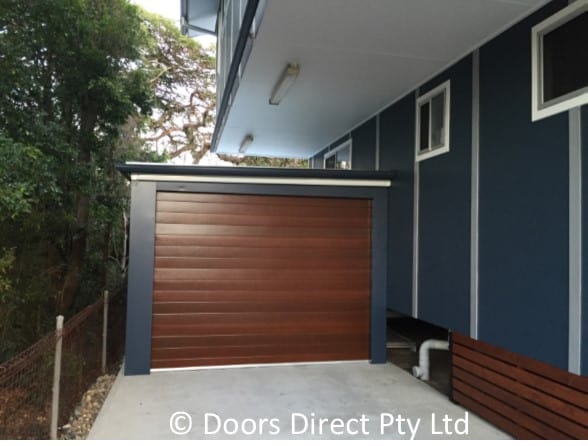 A smart home adaptation to your garage door can remind you to shut the door, keep track of who can open it and when, and make it easier for you to get your car in or out and on the go!
Whether you want that automatic door or a good manual one, Doors Direct has you covered. We have a wide array of garage doors, including sectional, tilt and roller.
Furthermore, if you have an existing manual garage, we can add a motor to make it electric and prepared for any smart home upgrade you may make in the future.
Give our knowledgeable team a call today to discuss how we can find the garage door solution for you.