Originally published 26/05/2015, updated on 06/09/19 and updated 17/08/2021
Do you need a new garage door for your home but don't know where to start? This comprehensive guide has you covered.
The garage door may appear to go unnoticed, but it is the largest moving part in the home, and it requires more attention than you may think.
A new garage door can do many things for you as a homeowner, including adding value to your property, securing your vehicle and entrance points to the home, and making the garage door safer to operate.
Not sure about the investment?
Statistics show that a new or upgraded garage door pays for itself when it comes to the return on investment. A garage door replacement offers a higher ROI than kitchen and bathroom remodel, the addition of a master ensuite or a backyard patio.
Key Considerations Before Purchasing A New Garage Door:
What is the size of your car?
Do you intend to use your garage for storage?
What is the required side and headroom for the door?
What is your budget?
These are vital points to consider in creating your perfect garage that's ready to store, protect, and preserve what's important to you. Ensuring you have the required space to fit your desired garage door is certainly something you should put some detailed thought into, as getting it wrong can limit your design options and functionality.
Standard Garage Door Sizes
There is a common misconception that there are only specific sizes available and that standard size garage doors are available off the shelf. However, in Australia, all doors are made to measure and are available in various sizes.
All garage doors including, roller doors, panel doors, sectional doors, and tilt doors, are made to measure.
In the new home market, the standard residential garage door opening sizes that builders generally follow are:
Single Garage Door Size:
A standard single garage door is 2100mm high x 2400mm wide.
Double Garage Door Size:
A standard double garage door is 2100mm high x 4800mm wide.
The process of deciding on which type of garage door will best suit your garage, carport or shed is significantly based on your needs. You may find that you need the maximum opening possible if you have a large vehicle(s) or a wish for extra storage.
It is essential to consider that the door itself requires a certain amount of space for installation, which will impact your opening height once the door is installed.
To ensure you have the correct size, you must measure your opening height when the door is in the open position. If you are unsure, we recommended talking to one of our specialist team members to assist you.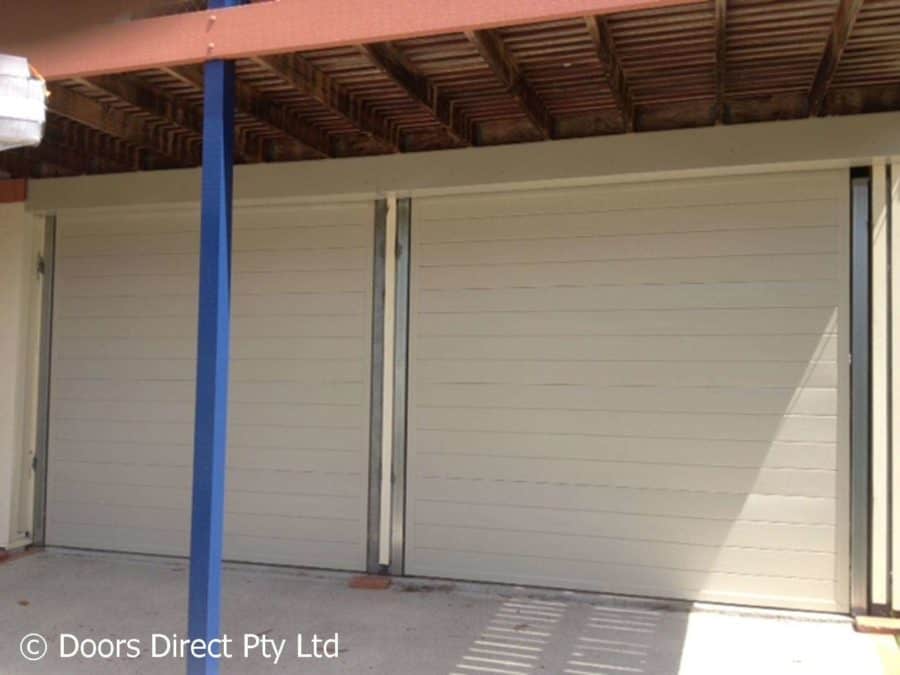 To save time and money in the long run, a little planning will be helpful. For example, if you are considering using the garage for more than one vehicle in the near future, it may be better to consider a double-sized garage door. Ask yourself, are you planning on using the space for additional storage? Will you convert the area into a different room or office? Once you have clarified the purpose of the space, you will decide on the best style of garage door to fit the space.
Types of Garage Doors
1. Roller Garage Doors
Roller doors roll up into a roll directly above the garage door opening, keeping the inside of your garage neat and tidy. Domestic roller doors are manufactured with a centre lift key lock for manual operation or motorised for use with remote control.
2. Sectional or Panel Doors
Sectional overhead doors consist of a series of horizontal panels hinged together to form solid garage doors. A sectional garage door is versatile, allowing them to suit a range of house styles from a Queenslander to a modern home and everything in between. The great thing about these garage doors is that they operate in a track system. This allows the doors to open vertically through a curve and follow the tracking across the ceiling.
3. Tilt Garage Doors
The tilt garage door is a one-piece overhead garage door that uses a spring balance hinge that opens out and up. As the tilt door is a one-piece design, it offers you the versatility of choosing from a broader range of materials to suit the look of your home. The tilt garage door is the best solution when you have limited height in your garage, as it takes up the least amount of headroom of any of the garage doors on the market.
4. Custom Aluminum Garage Doors
Looking for something specific but can't find what you need? Custom aluminium garage doors can be designed and manufactured into sectional or panel lift doors or tilt doors. Each style can even be motorised for your convenience. The product is made with Aluminium framing and cladding as it is both lightweight and durable for Queensland weather.
5. Timber Look Garage Doors
One of the latest trends in garage doors, the timber look, is a luxury addition to your carport. The timber look is made from Colorbond steels with a timber look finish applied over the top. Same appearance but less maintenance than actual timber. At Doors Direct, we custom make our timber finish doors to match your carport opening.
6. American Style Garage Doors
For an elegant garage door that can add street appeal to your home, Doors Direct highly recommend American Style garage doors, including the Hampton, Barn and Carriage style doors made exclusively for your carport.
7. Hampton Garage Doors
These beautiful garage doors are named after the popular Hamptons style homes and offer a unique design that complements a range of properties. The Hampton garage doors are also called Carriage doors because of the added small windows that line the top of the door.
Garage Door Size Guide
The garage door style varies in cost depending on the size of your opening and requires a minimum amount of headroom and side room.
Accurate sizing is essential to get the sizing and design correct for installation. Incorrect sizing can be a costly mistake. If you are unsure, we recommend hiring a professional from Doors Direct to assist you.
Roller Door Size
A standard roller door is produced to measure and fit openings up to 3m high x 5.5m wide and require 450mm of headroom. Learn more about Domestic Roller Doors here.
Sectional & Panel Door Size
A standard panel door is produced to measure and fit openings up to 3m high x 6.4m wide and require 250mm – 350mm of headroom. Learn more about Sectional/Panel Doors here.
Tilt Door Size
We produce standard tilt doors to measure and fit openings up to 2.5m high x 5.5m wide and require 75mm – 100mm of headroom. Learn more about Tilt Doors here.
Custom Garage Door Sizes
Custom garage doors are designed to allow extra height and width to match larger vehicles such as vans or trucks. These doors are produced to measure and fit openings up to 3m high x 6.4m wide. Learn more about Custom Garage Doors here.
Problems That Affect Garage Door Sizes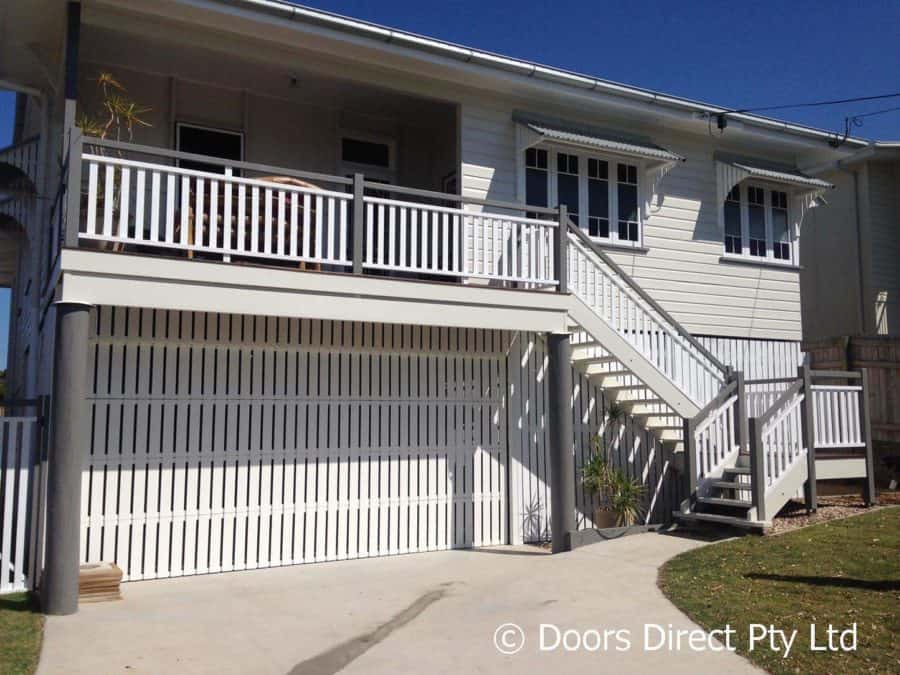 When renovating an existing house, most people are limited to the original size of the garage unless they are undertaking structural work. Many older homes in Brisbane, such as the iconic Queenslander, have limited height under the house. These types of houses benefit from installing tilt doors as these often give the best height clearance.
You can also excavate under the house to give more height by building a carport underneath or at the front of the house. Other factors to be aware of can reduce the height of a garage door installation if you choose the wrong type of door for your property.
The factors that can restrict the height of your garage include:
Structural beams
Structural posts
Plumbing
Pipe-work
Electrical conduit
Shelving units
When installing a garage door, make sure to keep these factors in mind, so you do not encounter any problems if you are unsure about which size or style of garage door is suitable for your property.
Get in touch with the team at Doors Direct, who can provide expert advice about your garage door installation.
How Do I Measure My Garage Door?
If you're after a custom-made design, you're going to want to get the dimensions right.
Using a tape measure:
Step 1: Measure the width of your garage door by measuring from one side of the door to the other.
Step 2: Measure the height by measuring from the floor to the top of the garage door.
Step 3: Ensure to check if your garage door has any strips attached to the bottom that will account for extra height.
Step 4: Make sure you leave room to run the tracks. Measure the space between the side of the door and the wall on both sides. This space should be at least 100mm, which most garages have, or 250mm for double garages.
Step 5: If you're planning on installing sectional or tilt garage doors, you'll need to ensure you have roof storage space.
Step 6: To know if you have enough space, measure from the garage door frame to the back of the garage.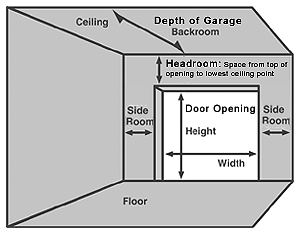 What Are My Next Steps?
If you are at the building stage of your garage or carport, it is best to contact us now to discuss the sizes you are considering to ensure your desired garage door will fit. There is no such thing as a standard garage door in Australia; all garage doors are measured.
One of the essential points to consider in the planning stage is if you have enough head and side room to fit your desired garage door. It is worth doing your research and ensuring this is correct. The garage door is such an important part of the house but most people forget this particular detail.
Think about what types of vehicles you will store in the garage, and the heights of these vehicles, when looking for a new garage door. The new kind of door installed will determine the opening height of your garage. As most garage openings are unique to your house and property, it is best to organise a free quote * and consultation with Doors Direct. We will help you determine suitable options and designs for your garage.
Contact us or email info@doorsdirect.com.au to book your free onsite quote * today.