We all take our garage doors for granted. They make our lives easier, especially in the mornings when we are rushing to work and need to get out at breakneck speed. And then again when we get back home late in the day and are too tired to get out. But what happens when there is an electricity failure? Will your garage door open?
A garage door can open without electricity, but it will have to be opened manually. This means getting out of your car and opening it up to let you drive your car in, and then manually closing it again.
The modern electricity-run garage doors come with a manual release function that allows you to bypass the electric opening mechanism if there is a power failure or in case the motor malfunctions. There is also the chance of the garage door remote breaking. In all these instances, the manual opening mechanism is beneficial.
1. Trigger the manual release
Garage doors that can be opened manually have a release cord that is attached to the garage door track. You will recognise it because it will normally have a red, T-shaped handle. Ensure the garage door is in the down position. Pull the cord. The door is immediately released from the belt or the drive chain, opening the door.
2. Open the garage door manually
Garage doors come with a handle on the inside of the door. Hold it firmly and lift upward. When the door is disconnected from the opening mechanism, the door is easy to be raised to the fully open position.
If the door does not open smoothly and evenly, there may be a broken spring that will need to be repaired. Don't attempt to undertake any repairs of the garage door on your own. Instead, get in touch with a reliable and reputable garage door repair technician.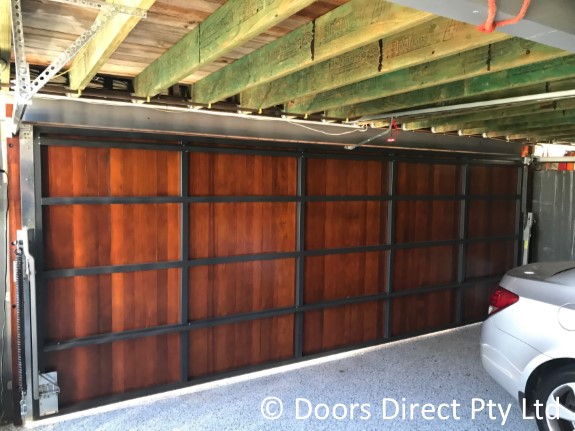 Points to keep in mind when triggering the manual release
You will require to use some amount of force to pull the manual release cord.
Don't hang from the manual release cord or you will end up damaging the track the door runs on.
Don't pull the manual release cord when the garage door is open.
If the door is open and needs to be closed, first, prop up the open with boards to ensure it does not shut. Remove all obstacles and people out of the way of the entrance. Release the door.
If you use a manual lock on your garage door, ensure you remove it before trying to open the door.
After the power is restored
 Once the power is restored, reconnect the garage door so that it can be used automatically. Some garage doors are built to allow you to simply reconnect it to the power supply by pressing a button on the remote. Other types of garage doors will require you to manually do this.
The importance of maintaining garage doors
A power outage is not the only reason garage doors stop working automatically. All garage doors require regular maintenance to ensure they work properly for several years. Garage doors that are not maintained regularly can cause accidents. Without regular maintenance, the garage door could end up with broken springs and cables that occur due to wear and tear. Once there is a broken part, the garage door becomes unsafe and can cause serious accidents. The garage door motor is another part of the garage door that can get defective without regular maintenance. It would be impossible to open the garage door automatically if something were to go wrong with it.
Never try to repair a garage door on your own. For any problems relating to your garage door, get in touch with a reliable and capable garage door repair service. Doors Direct has a great reputation for repairing residential, industrial and commercial doors quickly and seamlessly. Some of the services include repairing of all types of garage doors, correcting incorrect spring tensions, repairing noisy doors, motor repairs and garage door replacements. Give Doors Direct a call today for all your garage door repair requirements or replacement, or email us. We will get in touch with you promptly.