Your garage door is a fantastic investment and is normally the first thing that people notice about the front of your home. Quality garage doors add value to your property, but as with all house exteriors, overtime garage doors become dusty and dirty.
Your garage door faces all the outdoor elements, withstanding the sometimes harsh Australian climate as well as winds, dirt, and debris. Over time, dirt and debris can eat away at the paint, leaving you with the need to re-paint the entire door. Keeping it clean will not only keep it looking great but ensure it's in good working order too.
What you'll need
It is important to make sure you have everything you need before you start your clean. Being organised will make the whole process faster.
• Bucket
• Brush or broom
• Gentle/mild soap
• Hose
• Cleaning cloth (an old rag will do!)
Fill the bucket with warm, mild soapy water. Be careful not make this too hot or it can damage the paint job on your door. Alternatively, using a pressure washer as also an effective way to rid your door of excess dust and dirt, however, make sure it isn't in full power or you could risk chipping away the paint.
How to Clean the Exterior Garage Door
Step 1: Start by taking your brush and gently wiping away any loose dirt and debris. Using a long-handled broom is a good idea to help you reach into those tricky-to-reach far corners.
Step 2: Use the hose to spray the entire door, then, use the cloth soaked in the warm soapy water to wipe down the door. If it's a particularly warm day and you have a big garage door, you may need to wet the other side before you get to it in case it has dried already!
Step 3: Gently hose the door down again to get rid of any residual soap, ensuring this is done thoroughly as dried on soap can affect the paint job.
Step 4: If you have stubborn stains, try using diluted bleach or a special cleaning solution for oil stains to rub into them before rinsing off. Ensure you do a spot test prior to putting any chemicals on your garage door to ensure that it won't mark the surface.
If you are re-painting the garage door, it must be completely dry before you attempt to do so. After a new paint job, specialist wax can also be purchased and applied to help protect the surface of your garage door.
Although the interior garage door cannot be seen from the outside and it doesn't have to deal with the outdoor elements, it should not be neglected. Use your brush to loosen up dirt and dust before wiping down with a warm soapy cloth and then a clean wet cloth. Be careful not to use hoses too much for the interior as you don't want to get any electric motors wet.
As you clean your garage door, its also a great opportunity to visually inspect the door, looking out for any issues that may need to be addressed before they turn into bigger problems, and performing some safety checks.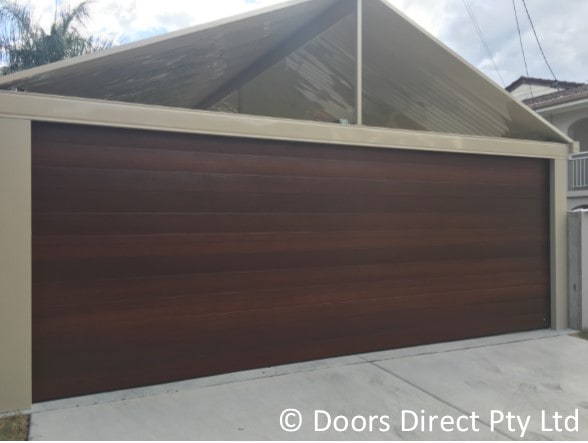 Has your garage door already suffered a bit due to time and weather? Doors Direct are here to help, offering repairs and servicing of your garage door. Have something in mind for a new garage door? Check out our gallery and find the perfect one for you.
If you're still looking for inspiration, or you are in need of maintenance or repair, then give our friendly team a call. We will help you find the garage door solution that suits you best.