Garage doors are usually the first thing people notice about a home, as it takes up so much space. Inside those garages, you will often find a parked car, maybe some storage, dust and dirt from a workbench, and so on. It usually isn't anything much to look at. However, there is a way to make people think that there is, thanks to 3D garage door stickers.
Garage Doors Made Fun
Don't have the money for a fancy car or yacht but like the look of one? You can have a 3D sticker put right on your garage door that makes it look like one is parked right inside. They are incredibly lifelike, giving the illusion that you actually have a classic car or even a Formula 1 racing car that looks like it came straight off the track. It isn't just a cartoon sticker, but a photograph that gives depth and shading in all the right places to make it look like the inside of your garage. Every detail has been put in place, including other things you might find in your garage like a ladder hanging on the wall or buckets of paint and paint cloths lying about. With this level of detail, your neighbours will think you seriously went out and treated yourself with a bit of luxury.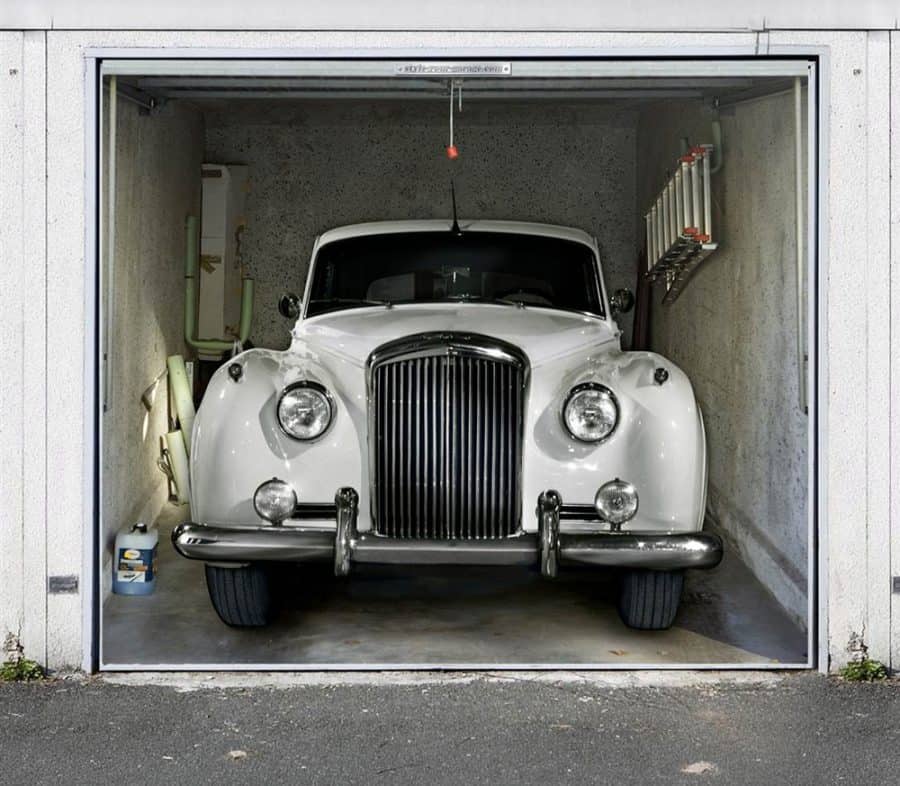 Instead of a picture giving the illusion of the actual inside of your garage, you can opt for a scene too. Many people have chosen serene scenes such as woodland on their doors, making it look like a path leading out. Smaller garages, such as converted carports, can even look like they are straight from the Bridges of Madison County, with a country feel that makes the garage look like a covered bridge leading into the countryside.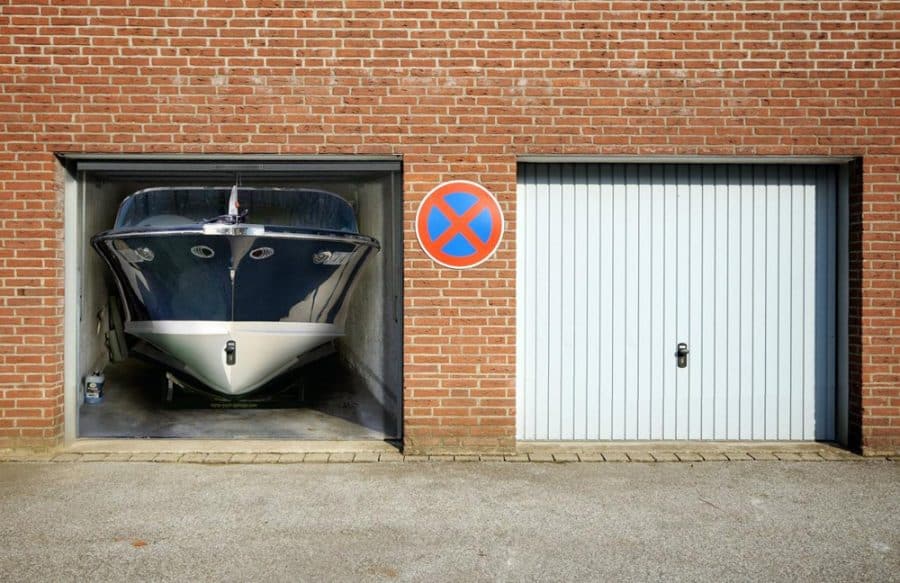 There are a few "just for fun" stickers too, like the illusion that your garage is a wine cellar, a Manhattan subway or where you keep your tank or giant alligator. The possibilities are endless.
The idea is said to have come from a German company who wanted to turn lifeless doors into something spectacular. There is something for everyone from making it look like you have a specific vehicle to scenery. They are not permanent, so you don't need to worry about doing any actual damage to your garage door. They stick on with Velcro and can be switched out whenever you feel like it. It will take less than half an hour to put up too. The costs are usually around $150AUD.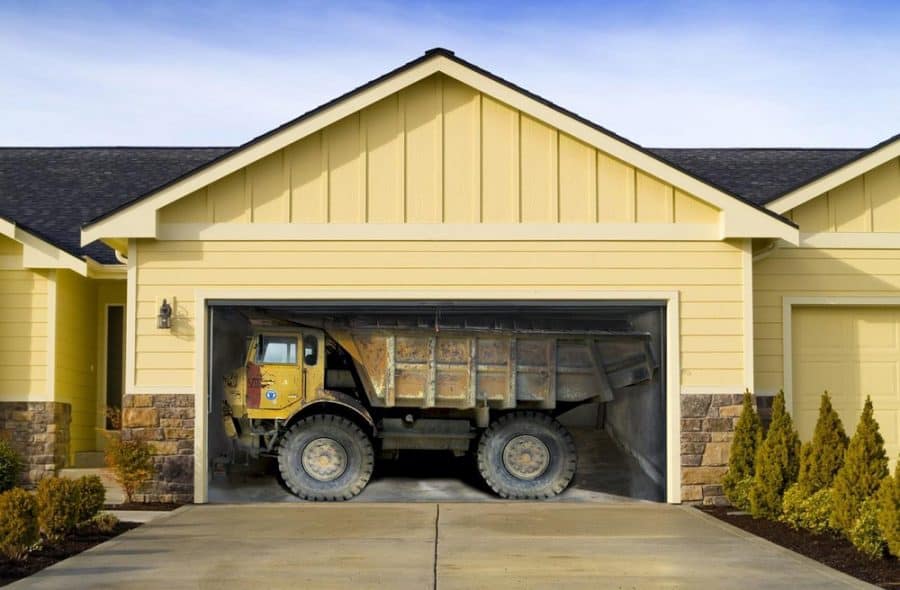 3D garage door stickers are fun to use all year round. Because they are so easy to apply and take off, some homeowners decide to change with the seasons. Summertime can come with a beach scene, making it look like your garage leads to the ocean, or there can be a Christmas theme, with Rudolph and his friends waiting for Santa in the shelter of the garage. The winter is the perfect time to create a winter wonderland.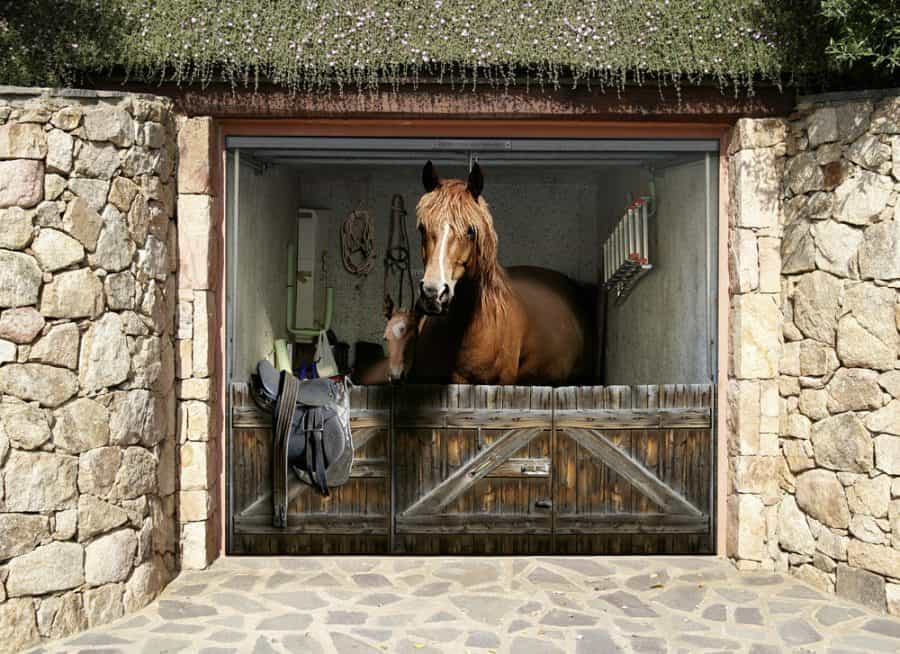 The first step in having a great 3D garage door sticker is having a suitable garage door! If you want to impress the neighbours with a head-turning piece of art right on the front of your home, then start with a durable garage door from Doors Direct. We can help you find the one that suits your home best and give you that amazing canvas to put your 3D sticker on. Check out our variety of garage doors or give us a call to discuss your needs.