Garage doors can be a valuable addition to any home or property but they need to be used safely to ensure no accidents occur and to prevent injury to yourself and/or others.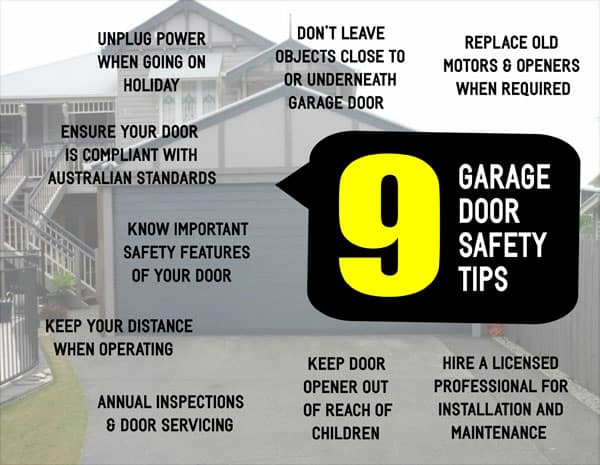 Don't leave objects close to or underneath garage door
Unless testing the reverse mechanism, never leave any objects underneath the door or in close proximity to it. Otherwise, you might cause damage to the object or to the garage door.
Unplug power when going on holidays
It's recommended that you unplug your garage door motor from the power point if you are leaving the property for an extended amount of time or going on holidays.
Replace old motors and openers when required
Never continue to operate your garage door if you know the opener or motor is faulty. If required, close the door manually and call a licensed professional for replacement or repair.
Ensure your door is compliant with Australian standards
Australian standards help to improve the garage door safety and ensure a quality product has been installed. From time to time these standards change, such as the update following Cyclone Yasi. Each time you get a garage door installed, serviced or repaired, ask your specialist if your door complies with the current Australian standards.
Know important safety features of your door and make sure they work
Keep your distance when operating
Keep your distance when the door is opening or closing and never walk underneath the door while it's operational.
Annual inspections and door servicing
Ensure your garage door is inspected at least once a year and serviced when required. A professional garage door specialist should send reminders about your next annual inspection.
Keep door opener out of reach of children
Some garage door accidents have occurred because children have somehow got hold of a remote control and used it to activate the opener. Adults should ensure these are placed out of reach at all times. The wall button inside the garage should be mounted at a height that is out of reach of small children.
Hire a licensed professional for installation and maintenance
Never repair or service the motor yourself unless you know what you're doing.