Choosing the perfect garage door for your home or business is of utmost importance. Not only should you be concerned with the cosmetic look of your garage door, but you should also choose a product that's going to suit your needs.
There are several products you can choose from, all of which can be purchased and installed by Doors Direct. You might feel overwhelmed by the number of garage door options that you have, but regardless of which one you choose, our experts will provide you with a product that you're not only satisfied with, we'll deliver a product that you'll want to show off to all your friends and neighbours.
Roller Garage Doors
Roller Doors are some of the most popular residential choices for garage doors. This type of garage door rolls up inside of your garage, and they look great on the outside! They're functional for residential properties, safe, and are made in a variety of colours so you'll match your home's tone perfectly.
Tilt Garage Doors
If you're limited by height in your garage space, a tilt garage door might be the perfect solution. This type of garage door takes up the least amount of space, and you can even add a motor to eliminate the chance of any manual labour. Just like roller garage doors, tilt doors come in a variety of colours to suit the overall look of your home.
Sectional Lift Doors
A sectional, or panel lift, garage door could also be the perfect solution to fit your garage door needs. These are overhead doors, made up of horizontal panels moulded together to create one solid garage door. Again, these come in a variety of finishes, so no matter what cosmetic look you're searching for, you'll be able to find the perfect fit for your home.
Aluminium Garage Door
An aluminium garage door might be the perfect solution for you if you're looking for a garage door that's low maintenance and lightweight. Doors Direct will create custom aluminium garage doors for you if you're wanting to match an already existing structure or under-home palings.
These aluminium doors are hand-welded, extremely durable, and won't rust. In fact, aluminium garage doors require minimal maintenance to the finish, so once you have them installed, you'll be good to go. If you'd like to add a motor, that's also an option with aluminium doors. If preferred, you can customise your aluminium garage doors to mimic that of a panel-lift garage door or tilt garage door, as well.
Timber-Look Garage Door
Does the exterior of your home have a "wooden" look to it? A timber-look garage door might be an option for you. These types of garage doors are the perfect alternative to a wooden garage door, which requires on-going maintenance throughout the year. A timber-look garage door has the cosmetic benefits of a wooden garage door with the durability of Colorbond steel. These types of garage doors come in a variety of finishes and can be motorised just like any other garage door option from Doors Direct.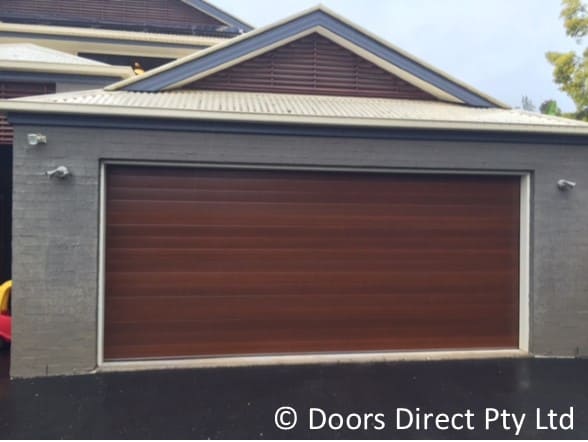 If you're looking for a way to add more space to your home, adding on a carport might be the perfect solution. Building a carport to add space to your home means you can install any type of garage door you'd like. Having a carport will mean you have a safer place to keep your car overnight, protected from any kind of weathering, as well as a visually appealing place to keep your belongings.
If you've been considering installing a garage door or adding on a carport to your home, Doors Direct is the perfect place to begin. We'll give you a free quote * just by calling and setting up an appointment with one of our garage door professionals.