The garage door is a huge feature and is often the first thing that people notice about your home. What colour you choose for your door can really make an impact.
Long gone are the days you have to be stuck with just white or cream! Picking a colour for your garage door can be a difficult choice. Luckily we have a guide to help you find the perfect colour scheme for your home.
Doors Direct uses Colorbond, a durable Australian steel made to withstand the climate. Colorbond is the choice of steel in Australia due to its resistance to corrosion and choice of colour range.
Here are ten choices to consider when picking your new garage door colour:
Ultimately, you can put whatever colour you want as your garage doors! But if you're looking for colours that complement each other then we're here to help.
1. Do you live in a really sunny area? Then stay away from dark colours. Light colours will act as a solar reflector, keeping your garage cool as the sun beats down on your home. Classic Cream is a great choice, giving a bright and clean look while keeping your home cool.
2. Now for the opposite! If you live in an area that tends to get cool or is very shaded, then a darker colour will absorb heat from the sun helping warm your garage, this is great if you spend a lot of time in this area when working from home. Woodland Grey or Basalt are a few darker tones that can help absorb heat into your garage.
3. In a wooded area? Stick with woodland tones. Terrain (brown tone) and Jasper (greyish-brown) are good choices if you have already a darker shade of foundation. If you really want to go bold, Cottage Green is also a wonderful choice.
4. If you have a pale coloured foundation and want something that stands out but not too much, then Mangrove or Pale Eucalyptus could be for you.
5. By the seaside? These often brightly coloured foundations deserve a blue focal point. Deep Ocean is a nice calming shade of blue that isn't too bright, providing the right contrast against the bright or white foundation.
6. If your home is made of dark red brick, then go for a natural dark tone. Night Sky or Monument would really make an impact.
7. Lighter coloured brick would not go so well with a darker coloured garage. Stick with Evening Haze, Paperbark or Classic Cream.
8. Is your home made of grey stone, and you need something that will pop, injecting life into your property. Manor Red is a dark colour that would look fantastic against any light grey stone foundation.
9. If your building is constructed out of wooden or brown rock material, then a steel grey would look perfect. Gully or Wallaby will give a wonderful, powerful look to the front of any home with that colour.
10. Homes with a light green hue are very pretty and deserve a garage door that complements it perfectly. Stick with a Classic Cream or other light colour.
All colours may look different online than they do in person, so be sure to check out a sample before making your decision.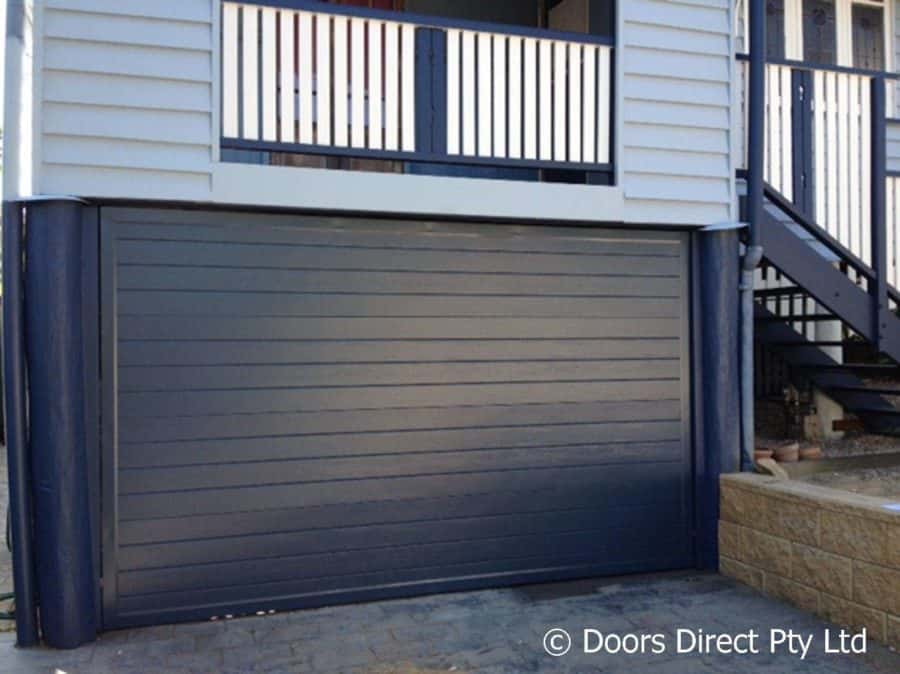 Since 2008, Doors Direct have been creating garage doors for homes in Brisbane and surrounding areas. We're Australian-made and owned, as well as being fully licenced by the QBCC.
We are also a member of the Australian Garage Door Association and the International Door Association. Doors Direct take pride in our professionalism and hard work, evident by the hundreds of garage doors we have already installed in the area.
If you would like more information on how to upgrade your garage door or put one on an existing carport, then give our friendly team a call where we'll be able to discuss your needs and options.